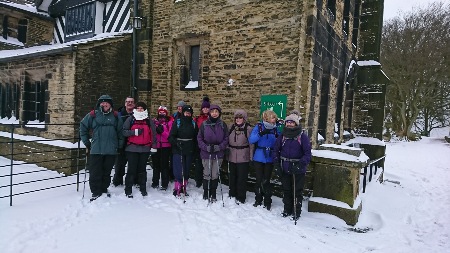 Sunday 18th March 2018

Although the weathermen seem hell bent on ruining our Sundays, yet again we defied the odds and had a great day out.
With contingencies in place we headed out towards Halifax, and although we found conditions far better than reported, I decided to take out the first couple of miles, so that the coach could stick to major road routes.
Starting at Shibden Hall instead of up on the moors, everyone kitted up for the conditions and we headed out over a winter wonderland.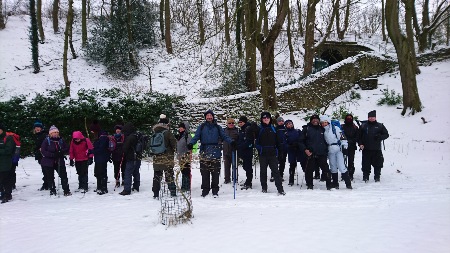 The new A group leader Catherine, standing in for Viv who devised this excellent walk, but fell ill last weekend, did a fantastic job considering she was thrown in at the deepend.
Keeping everyone close together as we negotiated the sometimes slippery conditions we headed out of the park towards the Magna Via.(we all know what that is)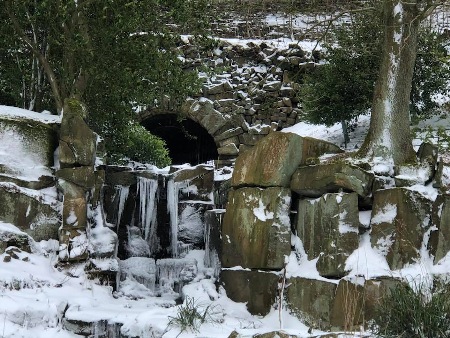 In the meantime, the B team following swiftly on our heals headed out of the park at a different exit.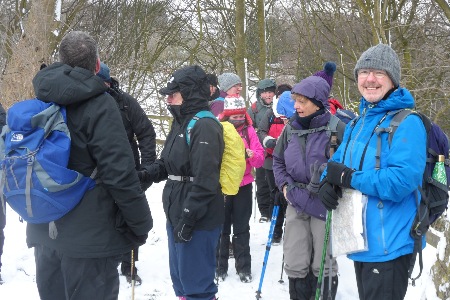 Kevin led our B team after taking over the planning from Viv, also doing a great job keeping everyone together and safe.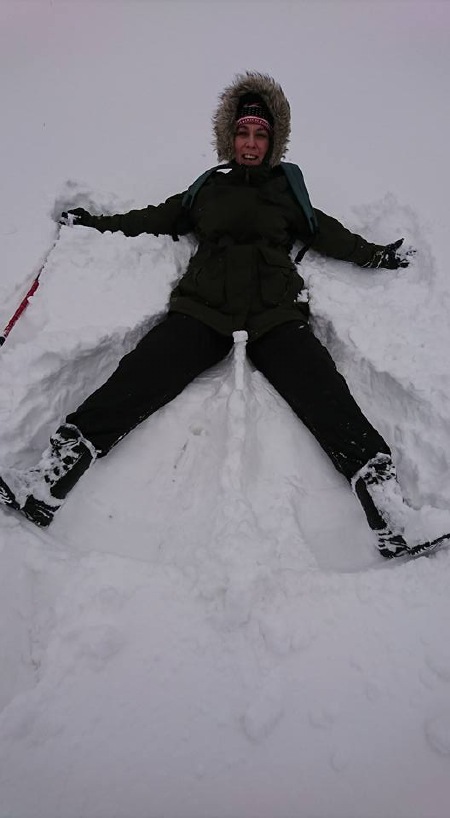 With an extra hour to play with, we could take our time and have some fun along the way.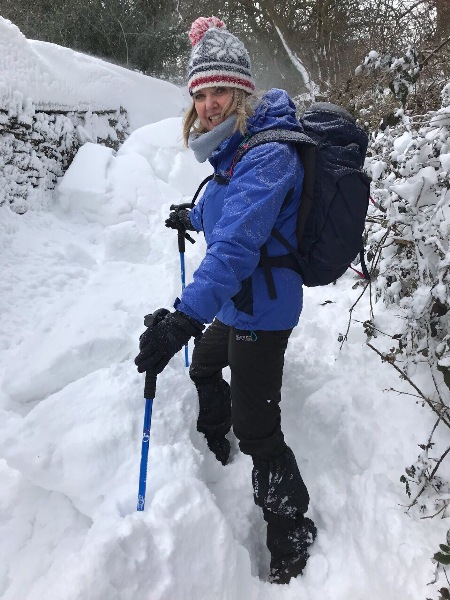 Heading up into the hills, the B team found some snow to play in, near the top of the Magna Via, which they had bypassed in order to get ahead of the A team.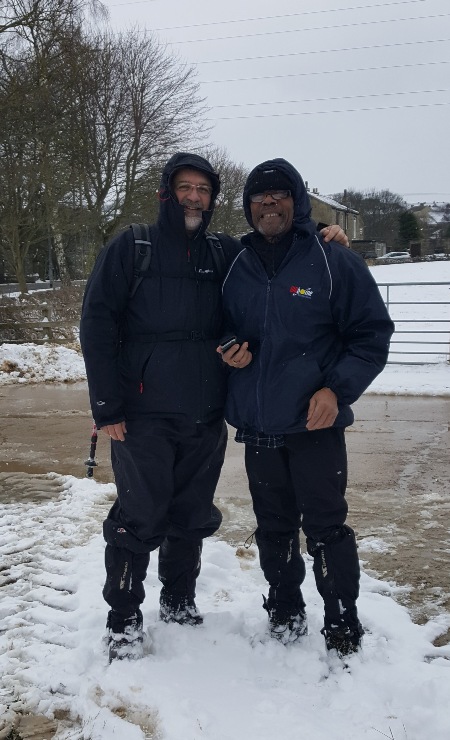 Kubi and Maurice, taking a breather.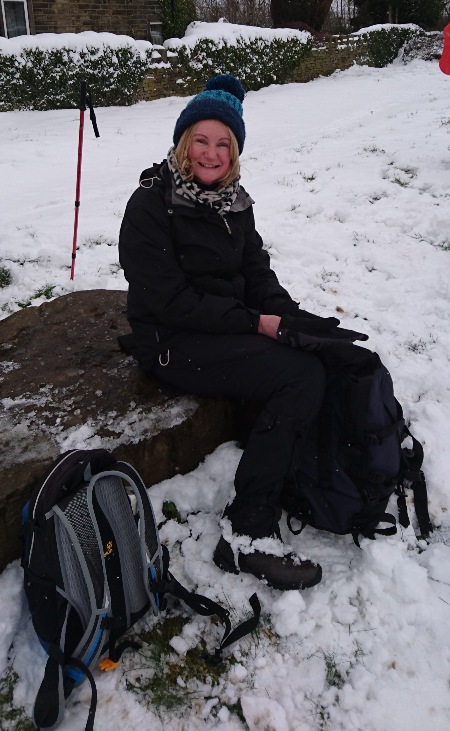 Around half way, it was time for our coffee and sandwich stop, and chose a set of stones obviously cleared of snow by the B team up ahead.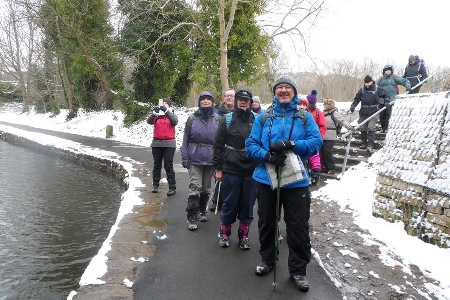 Finally, both teams closed in on our destination near Elland, and headed along the canal for the last mile or so.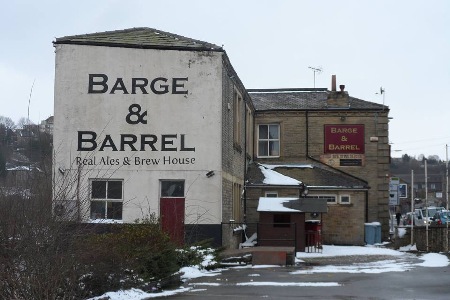 The Barge and Barrel was a welcome site, apart from the fact it was on the wrong side of the canal.
What a bugger, anyway we soon found a crossing point and headed in and settled down to a couple of very nice pints.(well done Viv, get better soon)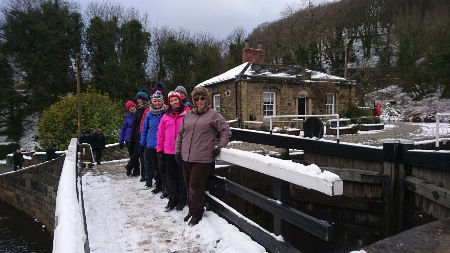 A few brave souls headed out in the afternoon (actually it was a good turn out) along the towpath towards Halifax, a nice steady walk along a snow and ice free route ending up near Siddall.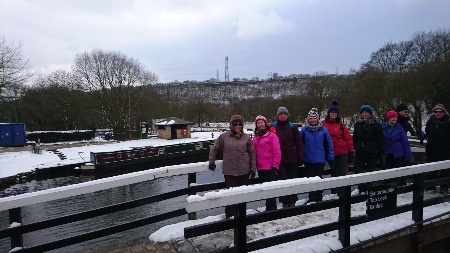 As the canal terminated we continued along the river, finishing up at the Shears, another Real Ale CAMRA recommended pub.(Bev and my little contribution to the walk).
We should have ended up at Vivs recommended pub, the Cross Keys (on a minor road), but the Shears was closer to the major road route for the coach.
So, apart from a few enforced alterations, a great walk and a lovely day out, thoroughly and safely enjoyed by all.



So, on that note, thanks everyone for your company, and especially Kevin and Catherine for stepping up to the mark and leading on what could have been a particularly difficult day.
I hope you will all be looking forward to our next walk in April (15th), to be led by John(A) and Ken(B), on an iconic walk taking in Brimham Rocks.
In the meantime we look forward to seeing those of you going up to the Lakes, and the rest of you next time, hopefully with a better weather forecast.
Best Regards,
Phil & Bev