January 27th 2019

Today, Doncaster Outsiders trod in the footsteps of good folk fighting for their rights against the tyrannical rule of Henry VIII. Our route followed the Pilgrimage of Grace, the largest uprising of Tudor times. Group A started at Millington climbing to Percy Kilnwick Hill.
Group B also started at Millington, the Gateway to the Yorkshire Wolds and rounded themselves up for a group photo.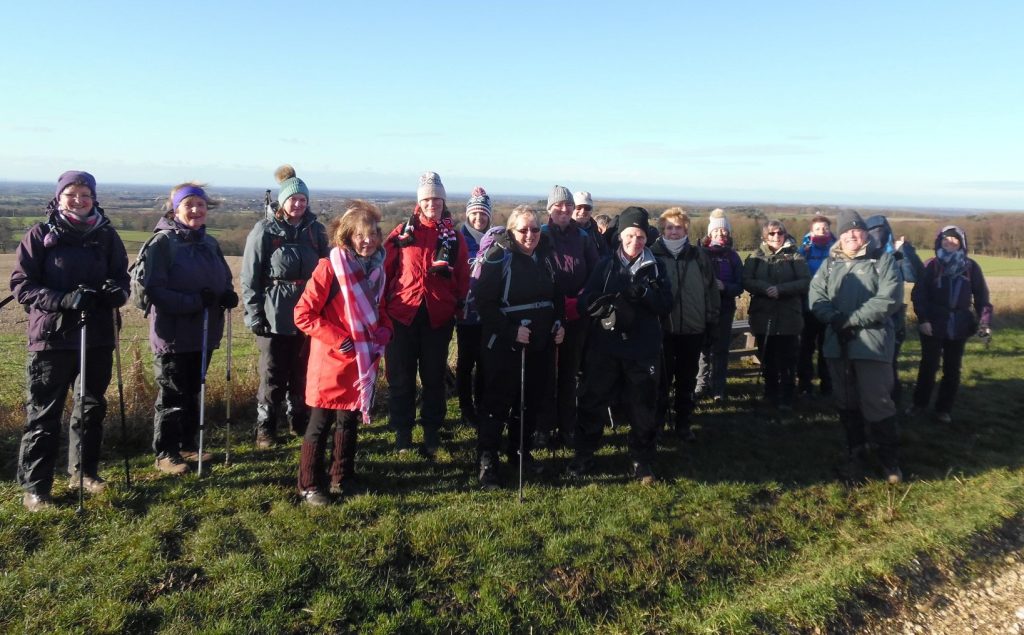 The Pilgrimage of Grace started at Percy Kilnwick in October 1536. As they marched their numbers swelled to an estimated 30,000. Those rebels from long ago continued to St James Church in Nunburnholme where they made camp and hatched their plans. They seized Hull and York, then
marched upon Doncaster, defeating the king's army. Henry VIII was compelled to give in to their demands. A year later, the king changed his mind, rounded the leaders up and beheaded them.
At St James Church in Nunburnholme, Group A joined forces with Group B. A parishioner appeared to kindly unlock the church door for us. We were glad of the warmth. St James Church is a Listed Grade I building and of Norman origin. It is home to a rare Viking cross, a historical gem.
We continued onto the village of Londesborough, a hunting paradise for kings of yore. The first snowdrops were out, reminding us that longest night has gone and Spring is on its way.
Already the pub was calling. The Goodmanham Arms in Goodmanham was filled with motorbike paraphanalia and some stuffed parrots. The beer was exceedingly good, so good that some didn't want to leave.
A few hardy souls set off for the afternoon walk. We walked along an old railway and were delighted to find St Helens Well, which was festooned with streamers and ribbons bestowed by locals. Finally onto the junction near Market Weighton, where the bus picked us up.
We would like to say "thank you" to the kind parishioner of St James for opening the church for us. A big thank you also goes to Ash for planning the walk and for leading the A Group and to Bev for leading the B Group.
Next month's walk is around Stamford in Lincolnshire and will be lead by Viv and Kev. We hope to see you there.