In July, Doncaster Outsiders were back on the coach. We had been coachless for 16 months. The excitement at venturing out felt thick in the air, almost palpable. We stopped en route for a comfort break and a cuppa, finally alighting at Monyash, an old mining village in the heart of the Derbyshire Peak District. Monyash lies at the head of beautiful Lathkill Dale and that is where we were headed.
Team B lead by Ash were a merry bunch, more walkers than normal and with some new walkers too. We watched them head eastwards then right on a footpath, gamboling down into the dale and out of view. Team A, lead by Michelle turned in the opposite direction, then left through St Leonard's Churchyard and onto the Limestone Way. For a while we were on high ground with lovely views over The White Peak. Our path descended into a steep, lightly wooded gorge to meet the River Lathkill. The source of the River Lathkill proper is reported to be somewhere between Monyash and Flagg, yet the river only appears into view at Lathkill Head Cave. The river joined us for parts of our journey, then returned underground into the abundance of old lead mining shafts and workings hereabouts. We picked out way over boulders and then wound our way by the riverbed through wild geranium and cow parsley.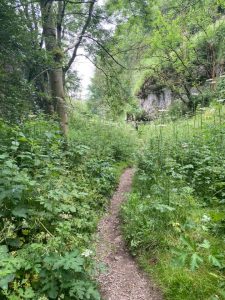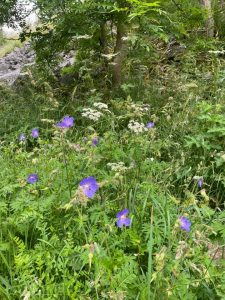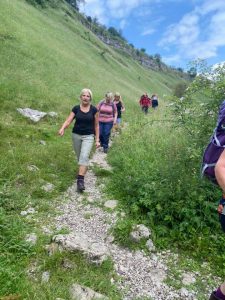 Further down the dale, we could see Group B. Carol walked with us for a while. Where the valley floor widened she re-joined her B Group flock with Shepherd Ash to guide her for the rest of the way. Group B followed the bubbling gurgling River Lathkill then around Over Haddon, climbed  out of the dale. Group A continued along the river, stopping for a break near a series of pretty weirs. Some ducks made friends with John, their beady eyes upon his sandwiches. In the water, other ducks fought territory wars with mighty splashes and ruffles of feathers.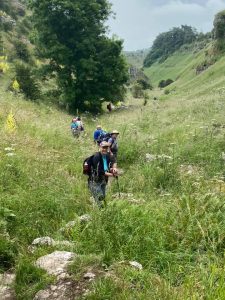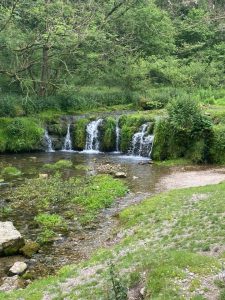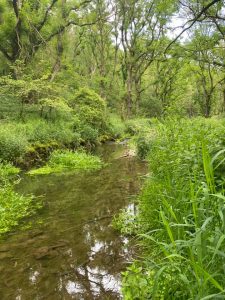 Team B crossed Haddon Fields and at Haddon Hall joined a footpath which followed the meandering River Wye gently upstream. Here they encountered a jungle of overgrown vegetation, unmaintained paths, a phenomenon of  reduced resources in our Covid times. Their final destination was Bakewell, foodie capital of The Peak District, for their choice of pudding or tart.
Team A's walk was slightly longer, ten miles rather than eight. We continued to Alport, before heading uphill. We were greeted by an entire field of cows all clustered at the field gate. Phil told them in no uncertain terms to shoo because we wanted to pass. From there we descended over Haddon Fields. Michelle had chosen to follow the road part way , before joining the River Wye and continuing to Bakewell. A socially distanced beer in The Red Lion was reward for our efforts.
Our walk coincided with the final of the UEFA Euro championship. We were all keen to get back and cheer England on against Italy. For that reason we chose to miss our afternoon walk this time. Next time we are back to normal.
I had a fabulous day. Beautiful scenery, exercise and excellent company. Thank you to Michelle and Ash for leading us on this fabulous walk.
The next walk is on Sunday August 8th, across Norland Moor. The map is Ordnance Survey OL21, South Pennines. If you want to join us next month or maybe at a later date, or if you want to know more, please contact Phil for further details at doncaster.outsiders@live.co.uk or call 07783953212.
You may have noticed that the planner for 2022 is starting to take shape. If you have ideas for a walk or you would like to help then please talk to Phil or Viv, Stay safe my friends.
.