With boundless enthusiasm that didn't match the weather, Group A alighted from the bus at Windy Hill. To the North, we could see the sign for Yorkshire and we headed there quick, then in a short distance over a footbridge that crossed the M62. Onward and upward bounding over gritstone boulders to a trig point at Robin Hoods Bed (472m). Through the mist we could see the humpy black mass of Blackstone Edge. We pondered that the views should have been lovely in August. Group B clutching their hats, scarves, sunglasses and suntan lotion were happy to stay on the bus for a little longer.
Group B started further on below Blackstone Edge at the poetically named Byron Edge. Heading North-West, they wound their way towards The Pennine Way. A collective panic set in, fears growing that they could be crossing over to the dark side…. errr Lancashire…….nerves settled, they stayed just the right side of eternal damnation before taking a soggy elevenses at Warland Reservoir.
Stoodley Pike beckoned through the mist for seeming ages.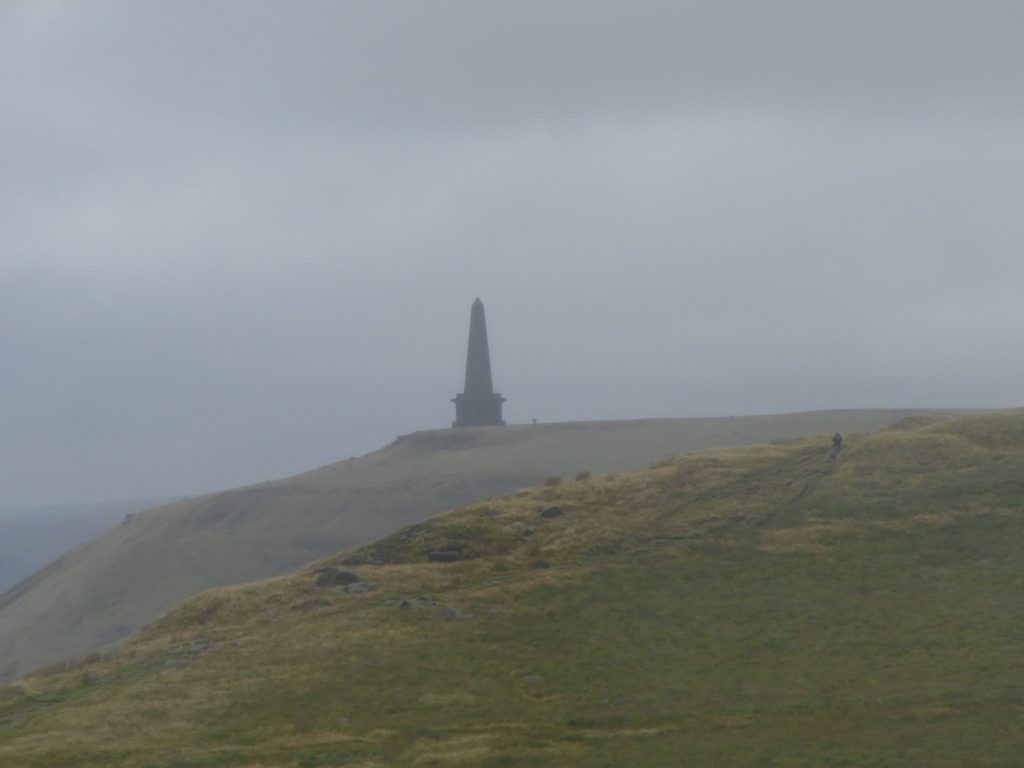 At last, Group B took a well-earned sandwich in the windswept shadows of the monument. In the distance they could see Group A like a herd of rampaging wildebeest hot on their heels.
From Studley Pike, both groups descended on The Pennine Way to an old drovers road, Dicks Lane then across open heather-clad moor. Beyond a gate we descended into a steep wonderland of beech, oak and holly, Broadhead Clough. Now a nature reserve, cared for by Yorkshire Wildlife Trust, in the 18th century the area was better known for a shady bunch of fraudsters, the Cragg Vale Coiners.
Group B lead the way through Broadhead Clough and then turned south on Frosthole Lane. At Wham Wood, Group A finally caught up. Both groups continued across Cragg Brook and up into the village of Cragg Vale for a welcome pint at the pub.
Thank you to Viv and to Ash for leading this walk and to Carol, Begona and Jacqui for sharing their photos. Next month we are going to Mount Grace Priory in the North York Moors, with fingers crossed for sunshine. The date is Sunday 8th September and we leave Doncaster Market Place at 8am. Contact Phil on phillip.ryan@hotmail.com if you would like to join us on a future trip.